Appeal
We the Kashmiri Pandits, inheritors of a rich cultural heritage are proud of our traditions, festival structure, art and culture. We should always remain grateful to our ancestor, who despite of deep religious persecution, suppression and onslaught kept this rich flame of our culture alive. We can't forget the great sacrifices made by them for the preservation and upholding this heritage (history is a witness to it). Ever after getting reduced to eleven (11) families they followed this way of life. Our past makes us to believe that we are great, our culture is great, our traditions are great that is why we are still alive.

No doubt we are passing through the most difficult phase of our survival yet we can neither be complacent nor should we compromise on the dilution of our identity. Because a man without an identity is better dead than alive.

The greatest help or service that we can do to our community is imparting the knowledge of God. Spiritual help is the highest help we can render to any one. The root cause of human suffering is Avidya or ignorance. If we can remove this ignorance in us, then only we can be eternally happy; then only we can realise that we are Pandit (Learned ones) and then only will all kinds of miseries, tribulations and evils be completely eradicated.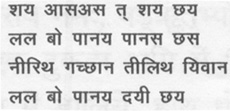 Let us keep this rich cultural heritage alive. Let all of us be more cautious than ever before because now the challenges are different and difficult.

SATISAR is an effort in this direction, let us all join hands to face this challenge. We need your intellectual, moral, physical and financial support in promotion and propagation of this thought. Please send us your views/suggestions so that we can be more scientific in our approach. We need you in the service of community.

SATISAR FOUNDATION
Post Box 118 Head Post Office
Rani Talab Jammu - 180001 (J&K)
e-mail : satisar2000@yahoo.com, sunilfotedar@yahoo.com
Visit us at : www.satisar.org.
Tel. : 0191-2502839